This article is not intended to be used as investment advice and is provided for informational purposes only. When making investments, you should consider whether the investment is suitable for you based on your risk tolerance and investment objectives.
ISDR
is a thinly-traded micro-cap stock, and bid/ask spreads are often very wide. You should never use a
market order
when buying or selling such securities: always use
limit orders
.
Issuer Direct is a communication and compliance technology company whose rapidly growing newswire brand is being masked by a declining, print-based legacy business. Although the legacy business will continue to decline, it becomes an ever smaller portion of the company's overall revenue streams and less relevant to the investment thesis. Enterprising investors who examine the various components of the company will discover a transition to high margin, reoccurring subscription based revenue. The company treats its shares like gold, which is evidenced by tight share count of less than 4 million and its history of capital raises (or lack thereof) — only once in its 13 year history. With roughly 25% of the shares held by insiders, you can be assured that management's incentives are aligned with outside shareholders. Finally, at an enterprise value of ~$30M, shares of Issuer Direct have significant upside from the current level of $10 per share.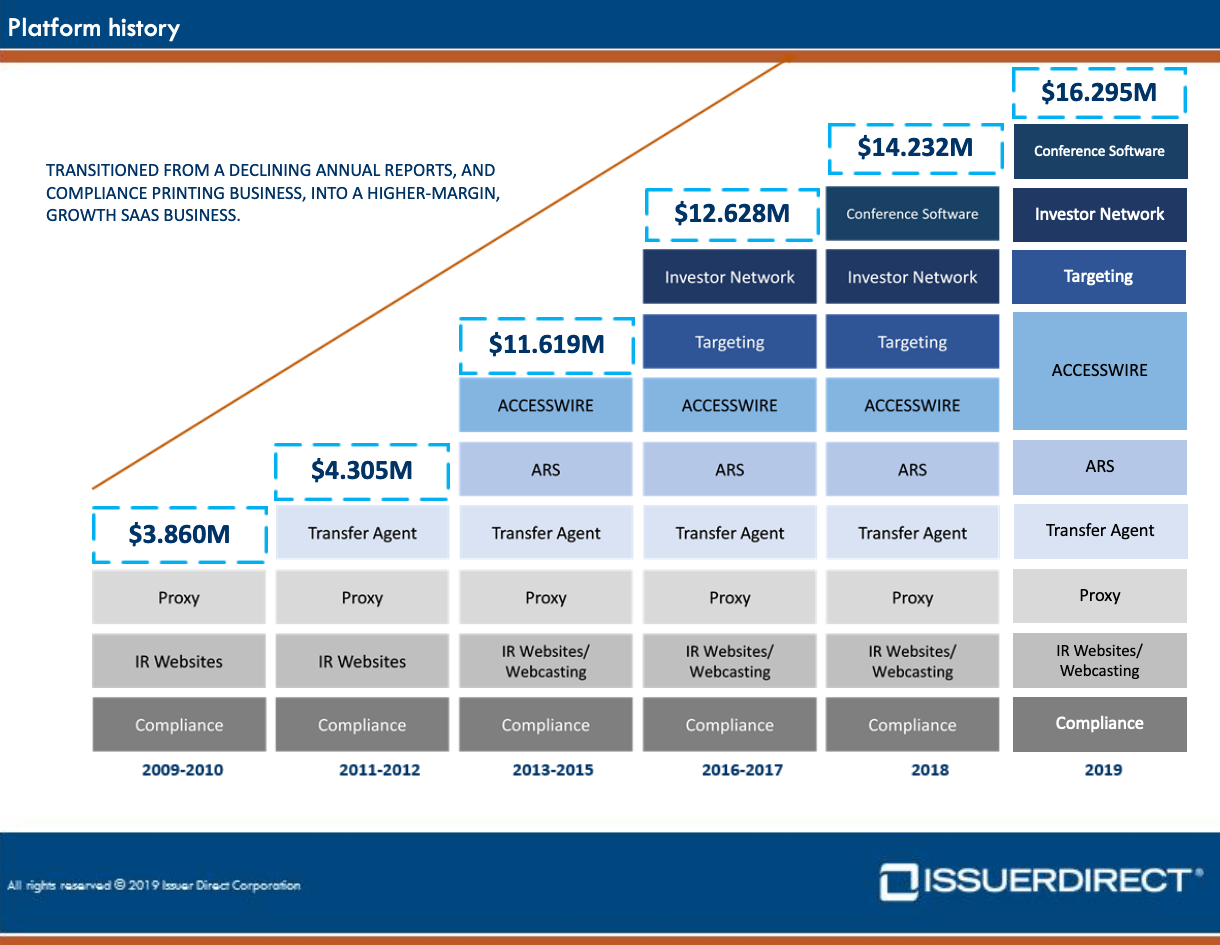 The company was started in 2006 when founder and CEO Brian Balbirnie noticed public company services were fragmented, prices were high, and quality of service was poor. The company's initial product was a service called MyEDGAR, a low-cost online solution for public companies to file forms with the SEC and the EDGAR database. They have added complementary products to their offerings over the years through a combination of disciplined acquisitions and in-house development. What began as a $50K per year business, grew into what is today a $16M revenue business and a company of nearly 100 employees.
Being a public company is a lot of work. On top of running the actual business, public company managers have a number of additional requirements that need to be satisfied, which is a drain on the time and energy that managers would otherwise spend focusing on operating their business. Each quarter an innumerable amount of hours are spent preparing for the "earnings event," with management needing to deal with an average of 6 to 7 separate services providers for products such as investor relations websites, press release distribution, disclosure management, annual report services, and earnings conference call providers.
Enter Platform Id, a one-stop-shop for compliance and communications that can be purchased through a single yearly subscription fee. This platform comes with the Blueprint software, which allows you draft any SEC document right in Microsoft Office, and then to upload, review, edit and submit from the web-portal. Documents are automatically converted to HTML using the Inline XBRL format. Each company can have multiple users on the system (CEO, CFO, etc), and users can edit and approve versions of a document before it is transmitted to the SEC. This means no more emailing latests versions of the 10-K back and forth.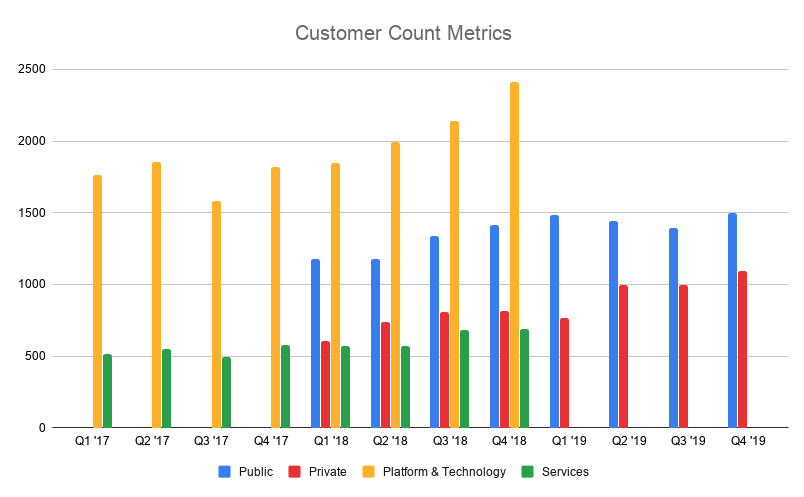 NOTE: Issuer Direct changed its customer count metrics in Q1 of 2019, when it switched from reporting on Platform & Technology and Services to Public and Private metrics.
The truly exciting part of Issuer Direct is its newswire business, ACCESSWIRE, which was acquired in 2014 from Baystreet.ca Media Corp. What makes this business interesting is both its growth rate and the total tangible addressable market. In total, there are only 4 news wires in the United States, with a total market size today somewhere between $700M - $1B. ACCESSWIRE is the smallest of the 4, but it is disrupting the industry with a lower priced product for a flat fee (rather than charging per-news release). As a smaller company, Issuer Direct has a lot more flexibility in terms of how fast it can iterate and build features for its customers, and as a result, ACCESSWIRE is taking both clients and industry talent from its competitors. ACCESSWIRE serves both public and private companies alike, and although the public company spend on press release distribution is much higher than the private company side, private company growth is proving to be quite strong.
During the Q4 conference call, Brian discussed how they are testing a new "E-Commerce Platform" which could help accelerate private company adoption. It allows private companies to become a new customer in a self-service fashion — there's no need to speak to a sales representative. The team at Issuer Direct will have a chance to shine as they test new features with customers, allowing them quickly incorporate feedback and learn which features truly resonate with their users.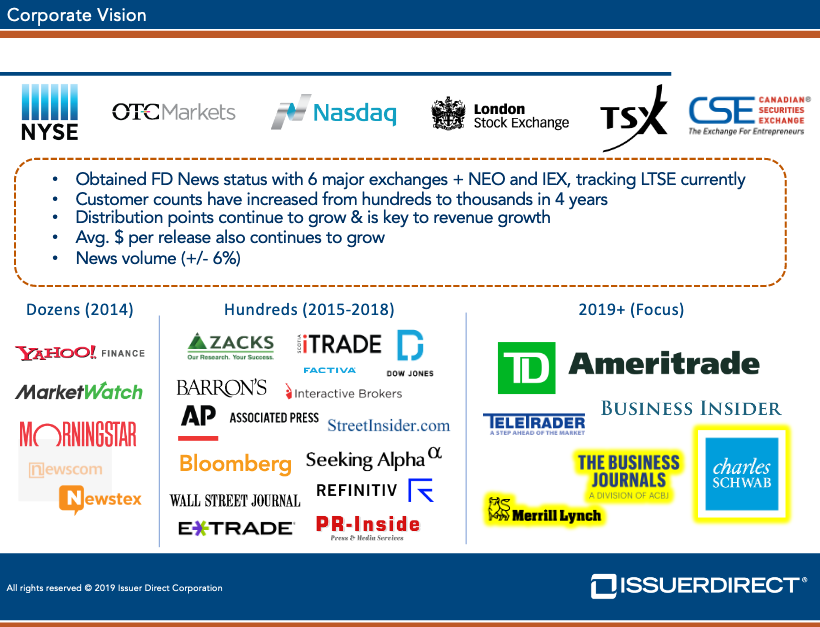 The press release distribution industry has barriers to entry that make it extremely difficult for new entrants to gain any traction, and it has nothing to do with technology. Customers who pay to distribute a press release expect a newswire service to have far and wide integrations. They want to feel comfortable that their news will reach as large of an audience as possible. This means integrating with hundreds to thousands of distribution points which takes many, many years to achieve. In addition, PR distribution includes complying with Fair Disclosure regulations as well as exchange-specific rules that may apply.
Issuer Direct has a healthy balance sheet with $15M in the bank and no debt. This dry powder is intended to be used for acquisitions, although some investors were expecting the cash to be spent more quickly than it has. I'm of the opinion that management is being very disciplined/conservative in their approach which is a good thing. Any acquisition candidate that the company is considering does so with the intention of cross-selling existing products and services to the customer base. With any luck, 2020 could be the year that Issuer Direct taps into this reserve to get a business that adds materially to both the bottom and top line of the company.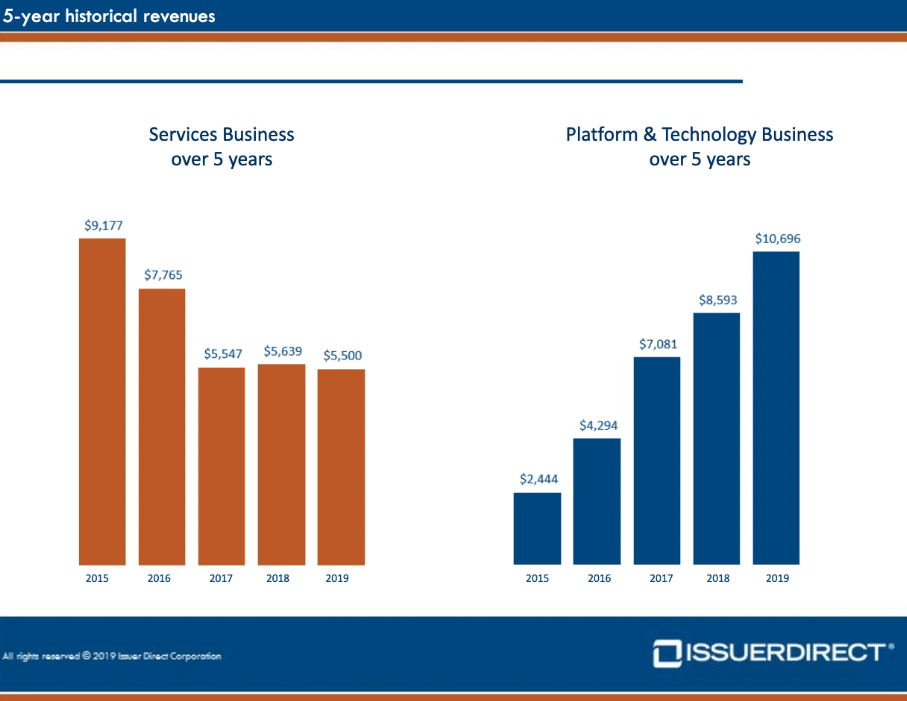 Investors who are only looking at the top and bottom line of this company may miss an inflection point in the fundamentals that may soon materially benefit the company. For one, the services business has bottomed out in terms of decline, and more importantly, the platform & technology business growth will start to show through in the top-line revenue. Platform & Technology revenue is higher margin, reoccurring in nature, and has the potential to scale up while providing operating leverage to the company.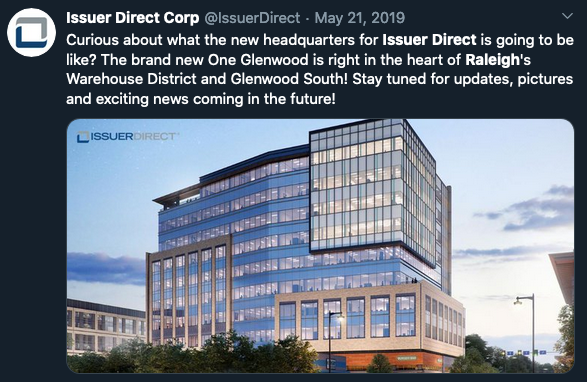 The company is investing for its future, and has recently spent money on things such as an expanded sales force and upgraded company headquarters. This sort of spending has depressed profits in the near term, however I believe it to be a temporary phenomenon.
Summary
At todays price of below $10/share, Issuer Direct has an Enterprise Value this is only 11 times EBITDA. This low valuation in combination with a healthy balance of cash in the bank means that your downside should be limited. Not only that, but if profit margins can normalize back to historical levels, the current price will look dirt cheap. I believe there is significant upside built into the stock at this point.
Valuation Metrics:

Shares outstanding: 3.827M shares
Recent price per share: $10
Cash: $15M
Enterprise Value: $23M ~= 3.827 * 10 - 15
Lease Liabilities: $2.3M
Enterprise Value inc. Lease Liabilities: ~$26M
2019 EBITDA: $2.1M
EV/EBITDA: 11
EV (w/ Lease) / EBITDA: 12
Disclosure Statement:
I, Brock Erwin, wrote this article on my own. I receive no compensation for writing/publishing this article. Both my clients and I own shares of Issuer Direct (
NYSE American: ISDR
). CleverInvesting, LLC is a
fee-only, registered Investment Advisor
focusing on finding quality businesses in the micro-cap space.